Ngagelan Beach - Banyuwangi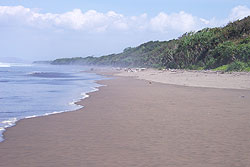 Ngagelan is breeding area. It is located 7 km to the west of Trianggulasi Bay. It is also the hachery for the baby turtles. Some biology students do the research here.
Ngagelan beach has much kind of turtle, such as Lepidochelys olivaceae, Eretmochelys imbricata, Dermochelys coreacea, Chelonia mydas, etc. Lepidochelys olivaceae is the most available here. Ngagelan beach can reach by any vehicle from Rowobendo post through west direction or it can be reach by foot through the beach that about 8 km.
Photo Gallery