Kediri – Blitar 1D Tour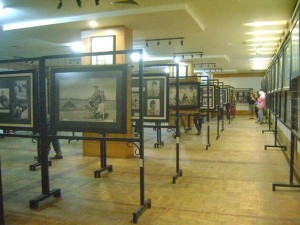 Destination: Bung Karno Museum, Bung Karno Grave yard, Penataran Temple, Culinary tour
After picking up at the Airport / train station in Surabaya or Malang, we heading to Kediri to start the tour.
Destination 1:
First destination is visiting Bung Karno's museum and graveyard. This complex is belongs to the Indonesian first president, Soekarno, that popularly known as Gebang Palace.
Gebang Palace is one of historical buildings in Blitar, that related to the first Indonesian President of Soekarno. This is a house that became the main home during Soekarno's childhood and school break. Gebang Palce is located at Jl. Sultan Agung No. 57, 59 and 61, Gerit Bendo village, Sanan Wetan District.
After the dead of Soekarno, the house is not open to the public, because it is managed by the heirs or relatives over Bung Karno. However, since the government of Blitar and East Java provincial government took over the house by bought it from Mrs. Soekarmini Wardoyo (Soekarno's relative) for Rp. 35 Billion, then Gebang Palace is now open for public.
Along with Bung Karno's grave that always been visited by the pilgrims, this Gebang Palace becomes a place of pilgrimage that must be visited when it comes to Blitar.
Gebang Palace is open to the public from 07.00 am. This building is lies on 2.4 hectares. Inside the building, will we find some antique furnitures from Bung Karno's family heritage, like, beds, living sets, old-fashioned typewriter, old-fashioned radio and telephone, as well as many other things details. The palace is well preserved even the furniture is can be used until today. The building on Gebang palace consists of 9 houses; which consists of one main house, 1 house for art galleries and Pray, 1 house for the kitchen, garage, dining room and bathroom, and 1 more for the caretaker of the palace.
Destination 2:
Penataran Temple
Penataran is the largest and the most important Hindu temple complex in East Java. It lies just 10 Kilometers at north of Blitar on the lower slopes of Mt. Kelud. It had said that this temple was dedicated to the Siva and use for at least three hundred years, from the 12th to 15th centuries. Most of the buildings, which can be seen today, however, were constructed during Majapahit's golden century.

The layout of the temple is similar to that found in the Balinese Pura today. A number of small buildings are scattered within a sacred, walled enclosure, with the largest and most important temple at the rear of the complex, Hindu legends. Among them the Ramayana epic, are carved in relief on the temple walls and terrace foundations.

Penataran tourism is the supporting tourism area near the Penataran Temple. In this area, we can find swimming pools for adult and children, also, the water bike pool, artificial lake and children playground.
Destination 3:
After visiting some of historical places, at noon to night we can enjoy the time by having dinner and tasting some of signature menus from Blitar or Kediri while spending the rest today's tour.