Banyuwangi Marite Tour 3D2N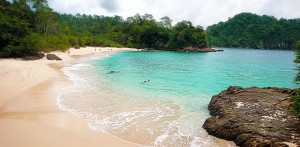 Destination:
Teluk Ijo – Rajegwesi – Pulau Merah – Boom Beach – Plengkung Beach (G-Land)
Day 1: Teluk Ijo – Rajegwesi
After arriving in Banyuwangi, we have brunch and enjoying local food. After having brunch we checking in at the hotel and getting ready to Teluk Ijo and Rajegwesi and spend the day at those beaches. After going back to hotel, we can have free time.
Teluk Hijau
Teluk Hijau or Green bay is located in Pesanggaran District , precisely in Sarongan village. It located about 90 km to south of Banyuwangi town. To reach this beach from Banyuwangi we just follow the directions to Pesanggaran-Sarongan-Sukamade, that are still one lane of route to Sukamade beach, Merubetiri National Park.
Green Bay is typical white sandy beach and the sand is find and it easily embedded in the skin. The bay also has panoramic view with green sea water inside and 8 meter high of waterfall. For those who give visit to this bay, the vehicles can be parked near Rajagwesi beach then we can walked to Green bay as far as +/- 2km.
Rajegwesi
This beach is located in Sarongan Village, Pesanggaran subnn-district,. This is a natural sight and has historical value to be visited. Being here, you can see the beauty of the beach and the glory of the nation's remaining Japanese bunker during the Japan colonial period.
Rajegwesi beach has uniqueness that is not owned by many other beaches. This beach has brown sandy beach with very delicate and soft sand. The sand is a mixture between the beach sand with silt that carried by the river water during the flood.
Day 2 : Pulau Merah – Boom Beach
After having brunch we continue the trip to Pulau Merah and Boom Beach, enjoying the time till dawn and back to Hotel to get some rest.
Pulau Merah
Pulau Merah or Red Island is a beach that located in Pesanggaran sub-district. It has a Hindu temple named Pura Tawang Alun. This temple is often used as ceremonial events for Hindu followers around Pulau Merah. There are various activities that you can do here from surfing and photo hunting.
The name of Red Island Beach is taken due to a hill near the shore where the land is red. You can walk closer to the hills at low tide. The hill is covered in trees and green shrubs and there will be slight red tinge visible at dusk.
Boom Beach
Located in the village of Mandar, Banyuwangi, Boom Beach was once an important port in Banyuwangi. This beach is located in the center of the town of Banyuwangi and it visited by many tourists, both from local  and outside of Banyuwangi.
This beach is typical a black sandy beach and it has an exotic background of Bali island. The visitors can enjoy the beach while enjoying the coconut in pedestrian line or enjoying horse riding or riding an ATV.
Day 3 : Plengkung – Gift Store – End
In last day trip we going to have fun to G-Land and continue to gift store to buy some sovenirs and hand gift.
Plengkung Beach
G-Land or Plengkung beach is known as one of the best surfing beaches in the world. The word  "G" in "G-Land" derives from Grajagan, the name of the bay where the huge waves can be found at the south of the Banyuwangi.
It is surrounded by virgin tropical land forest. G-Land offers the world's most demanding surfing sport, and recommended for professional surfers only. On May to October is the best time for surfing. No doubt it is a world of surfer paradise. Most surfers start from Bali, take an overland to Banyuwangi and directly to go to National Park of Alas Purwo, G-Land or cross the Grajagan Bay to Plengkung beach where the waves challenge invite the surfers. However it is not recommended for novices.