Heritage Tour Package (EJ04-2D1N)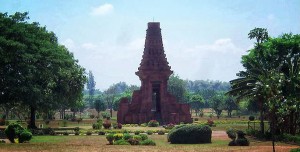 Route: Surabaya – Trowulan – Recolanang Temple – Tretes – Jawi Temple – Singosari Temple – Jago Temple – Surabaya
Day 1: While arriving in Juanda Airport, Surabaya, you will be accompanied by our guide, touring to some historical places in Trowulan, Mohokerto. Here, you will visit the ancient temples from Mojopahit emperor, which was the largest emperor in Asia. Not only the temple, you will also find out the Trowulan Museum, where is the place of ancient heritages from Mojopahit. There are so many historical tourism objects in Trowulan, like Brahu Temple, WringinLawang Temple, Kolam Segaran or Segaran Pool, Pendopo Agung, etc.
Next, you will visit the Recolanang Temple. The shape of Recolanang Temple is like Budha statue, located on Trawas Mountain. Besides visiting Recolanang Temple, the beautiful scenery around the temple will also catch you and the weather is so fresh and pure breath. After all day long taking a tour around Trowulan and Trawas, as the next stop you will drive to Tretes hotels.
Day 2: On the second day, you will enjoy the Jawi Temple, which located in Pasuruan Area, also Singosari and Jago Temple, which located in Malang Area, and then we return to Surabaya.