Jember Fashion Carnaval (JFC) 2015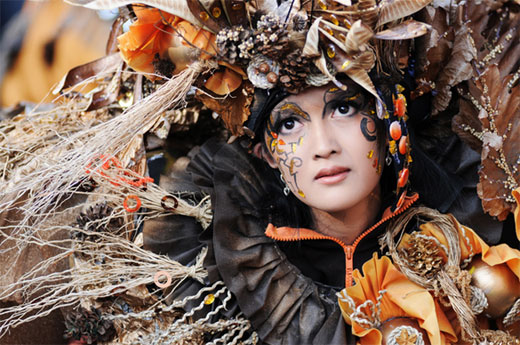 Since first launched on January 1, 2003, Jember Fashion Carnaval (JFC) continues to evolve into the most famous fashion festival in Indonesia. Jember Fashion Carnaval is an event fashion street carnival with costumes and extreme creative makeup in catwalk along the 3.6 km. JFC followed by more than 2,000 participants, ranging from kindergarten, junior high school, senior high school, university, and public participants. All participants design, financing, making, and demonstrate their own costumes and competed between participants. All participants before will follow in-house training which includes basic fashion design in order to participate in this event.
JFC's first performance in 2003 is quite historic, because it was held to coincide with the anniversary of Jember City. By 2015, the anticipated event fashion lovers and photographers from across the country and the world was held on 26-30 August 2015.
JFC performances are entering the implementation of the 14th this time has theme "Outframe". The meaning of the theme "Outframe" is JFC be a gate that opens up the world of creativity without limits in an effort to translate imagination into a work.
Dynand Fariz as the founder and president of JFC known for innovations that are always unique and new, even at JFC 2015 was still presenting innovations in different costumes, unique, and also new activities program. In the 2015 round, with a magazine holding VENUE, JFC held JFC International Event scheduled on 26-30 August 2015, the carnival event program, exhibition and conference.
Stored huge business potential here. JFC event always able to absorb domestic and foreign tourists in a very large number, and of course also attractive to potential buyers. This is a combination that is unique and is the first event in Indonesia which combines carnival with exhibitions and conferences. The event is more JFC:
JFC International Exhibition on 26-30 August 2015
JFC International Conference on 27-30 August 2015
JFC Kids Carnival on 27 August 2015
JFC Artwear Carnival on 28 August 2015
Wonderful Archipelago Carnival Indonesia (WACI) on 29 August 2015
JFC Grand Carnival on 30 August 2015
In JFC 2015, will perform 10 defile, the defile of Majapahit, Circle, Egypt, Pegasus, Melanesia, Ikebana, Lionfish, Parrot, Fossil, and Reog. JFC fashion parade 2015 will also be displayed in Artwear and Grand Costume. Artwear is a creative breakthrough that lifted JFC fashion winter clothing for the weather with temperatures close to zero degrees Celsius in a fashion carnival in Indonesia which has a tropical climate. It became a declaration of the existence of JFC as part of a global trend setter.
More info: http://jember.eastjava.com