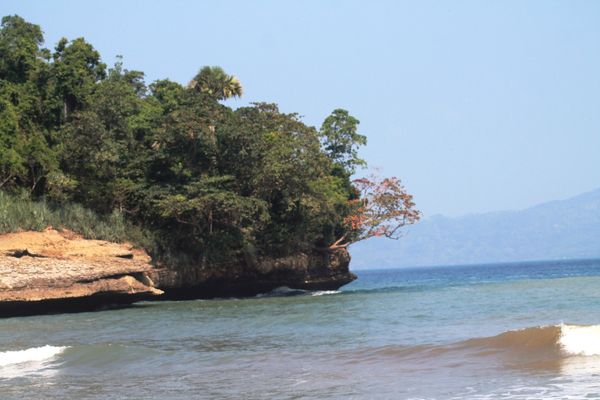 Coro beach is a marine coastal beaches in the mountainous areas and teak forests in Tulungagung regency. Teak forests area are located in the hills of the road is quite steep and it has a natural panoramic. Various types of trees, plants and fruits that along the trail to Coro beach. This beautiful beach is still hidden and natural.
Coro beach is located in Besuki district of Tulungagung regency. It is one of white sand beach with the blue sea water. This beach include a spring that is very clear, cold and fresh water. These springs are in the right area of Coro beach. The springs continue to flow towards the beach. The spring water is sourced from the white sand bottom that continues to bubble. In addition, Coro beach there is also a lake that is located on the left at the beach is overgrown with surrounded by the trees .The water lake is very clear.
Coro beach is a beach that is easy to access approximately 25 km southwest of downtown Tulungagung. Coro beach has a very strategic location, because it is situated adjacent to Sidem beach, Popoh Beach, See free and Padepokan Retjo Sewu. Coro beach is still very natural and untouched. Not many people know the beach. So the beach is still quiet, calm and very suitable for day trips with family or friends.
More info: http://tulungagung.eastjava.com